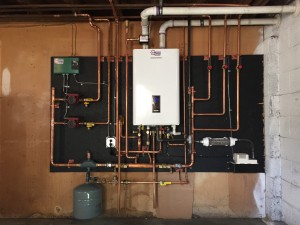 Boilers don't have to be the loud, outdated and intimidating system that you have hidden away in your basement. While these systems are avoided in newly built homes, they can actually be retrofitted and become some of the most energy efficient heating systems out there. However, because boilers seem to be going out of style, there are rarely any technicians who are willing or educated enough to provide the maintenance and repair service you need.
With the knowledge and experience you need, A.M. Botte Mechanical, LLC. will upgrade or service your current boiler, no matter the type, year or make, residential or commercial. We even offer a tune-up and combustion analysis twice a year to make sure that it is operating as it should.
We provide excellent boiler maintenance and repair for residents in Gloucester County and Camden County.
We service the following:
Commercial hot water and steam boilers
Commercial hot water heaters
Hot water pumps and circulators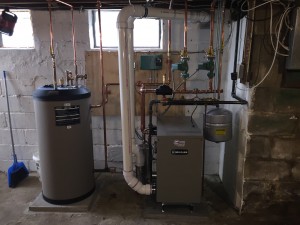 Boilers work by heating an enclosed container, boiling the water inside and then using a system of pipes to distribute the heat produced from the steam throughout the building. In this way, boilers are able to produce a comfortable, consistent, and draft-free climate with hot water, which is as affordable as it is environmentally friendly and efficient. With intelligent controls, you can get the perfect temperature while making sure your system is running efficiently. Our maintenance and repair service will keep your boiler running for a long time.
Whether you have a noisy boiler, inconsistent temperature throughout the rooms, or you need a servicer who will actually work on boilers, don't hesitate to contact A.M. Botte Mechanical, LLC. today! We are your source for boiler maintenance and repair in Gloucester County and Camden County. To learn more or get a free estimate, call us today at 856-848-8708.